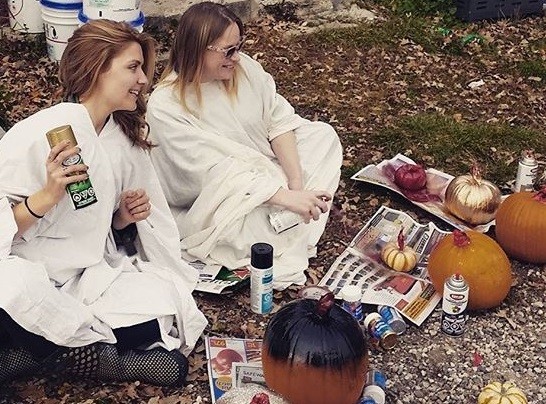 Crafting with Cocktails
In this series, we suggest cocktail and craft pairings – because getting your hands dirty and being creative is a wonderful outlet from the stresses of adulting! And getting together with your friends and a couple of cocktails makes it even better.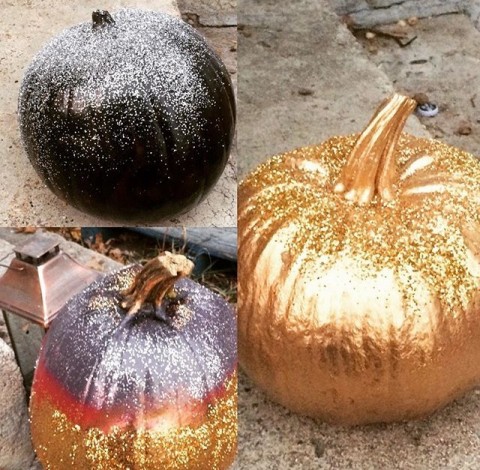 Fall craft idea – Glitter and painted pumpkins
This craft is so easy to do, not even mimosas will cramp your style! All it takes is a coat of spray paint to transform your pumpkin – and you can use any type of paint or colour, making it easy to create a décor scheme or coordinate with other decorations.
The effect is gorgeous – get ready to gain major crafting street-cred and lots of compliments!
The drink is the ultimate fall crafting cocktail – all the fun and bubbles of champagne infused with the fall flavors of pear, ginger and sage. It's perfect for day drinking, and it can be prepped ahead of time so you can put all the focus on your crafterpieces!
Get your bubbles and your spray paint and let's get started!
Supplies:
Protect your clothes – old sheets work great!
Spray paint – any colours you want.
Pumpkins!
Embellishments – gemstones or stencils
Instructions:
It's so easy, you could even do it after a couple of cocktails!
Lay assorted pumpkins or squashes down newspaper

Put clothing-protectors on. (We used old sheets with holes cut out - classic ghost costume!)

Pour Pear Ginger Sage Champagne Cocktails.

Spray paint those pumpkins! Don't forget the stem!
Optional – Add glitter, or gemstones, or stencil on patterns.
Pour more cocktails while painted pumpkins dry. Nibble on autumn-inspired hors d'oeuvres.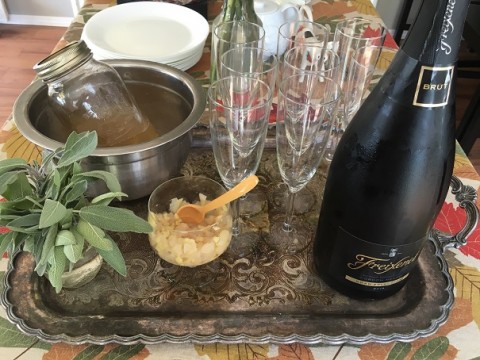 Food and Drink Suggestions:
Sipping:
Pear Ginger Sage Champage Cocktails
Get this fabulous seasonal cocktail recipe here from Dishing Up the Dirt.
(It's FriendMatch Test-Kitchen approved!)
Nibbling:
Make use of what's fresh and seasonal. Lots of beautiful vegetables are available now fresh and locally, so take advantage - sprinkling fresh herbs also on everything when possible.
Try grilled cheese-stuffed peppers, use a mix of sweet peppers and jalepenos, stuff them with soft cheese, (goat cheese or cream cheese will do nicely), then drizzle in honey and sprinkled with thyme.
What's Gaby Cooking! breaks down how to serve a gorgeous crudité platter, a beautiful way to make use of fresh veggies. Check out her tips here.
If you're looking for something more filling, a cheese plate, rounded out with fresh seasonal fruits, local honeys, nuts and seeds, is another good option. We love the Cheese platter from Seven Layer Charlotte - check out her tips on perfecting the cheese tray here.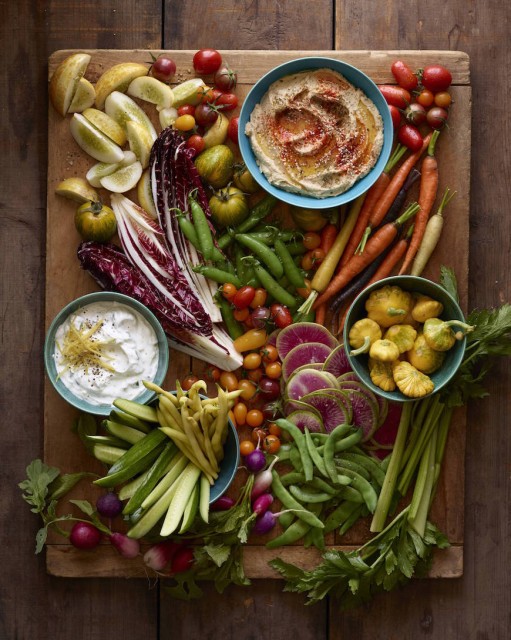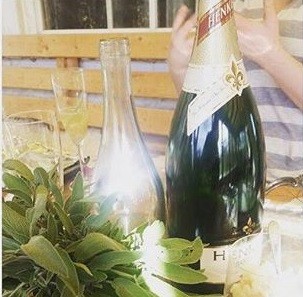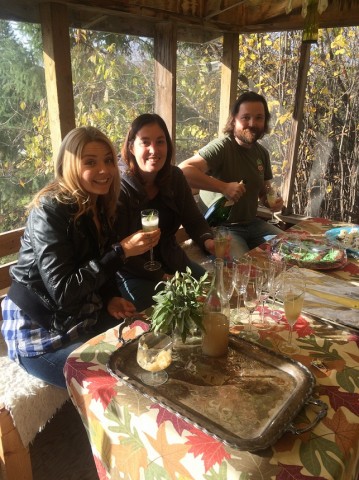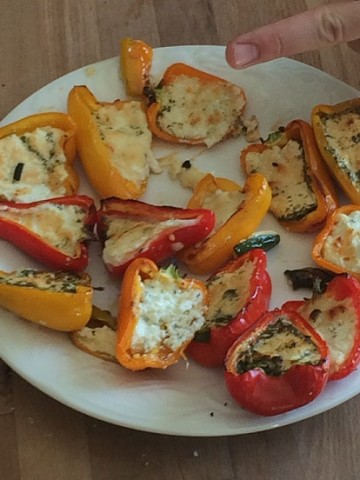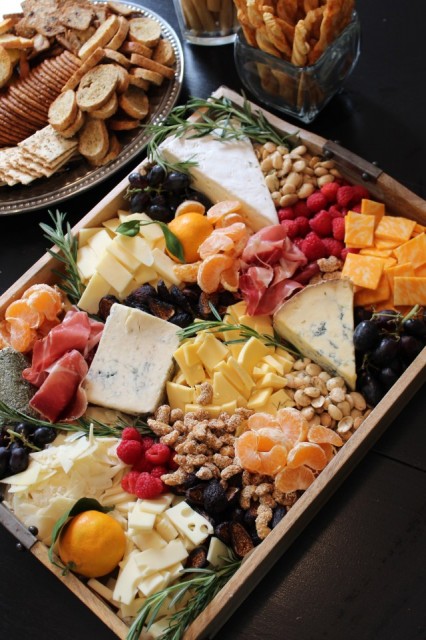 More Fall Crafts Inspiration
Want to do something different with your beautiful pumpkins?
Try stacking them into a pumpkin-witch, or make some creative jack-o-lanterns.
The spa-day pumpkin, the shark pumpkin, and the hamburger pumpkin were all on display at a Halloween event at the Grand Wailea Resort in Maui, but you could replicate them at home!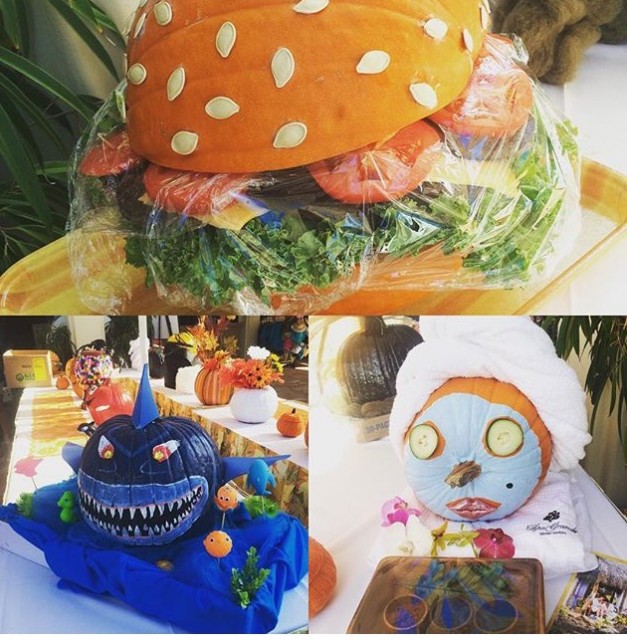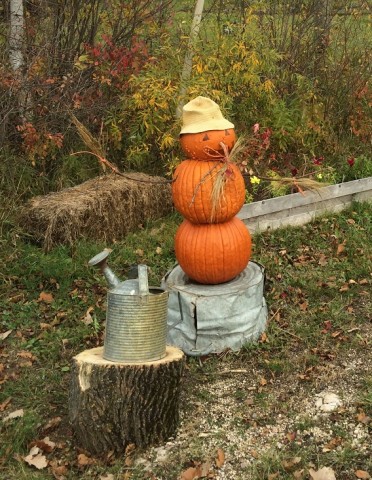 Pin it!