Would you like to meet a new friend? Search our members looking for friends right now -

Sign Up Member Login
How to Host a Vegan Tapas Dinner Party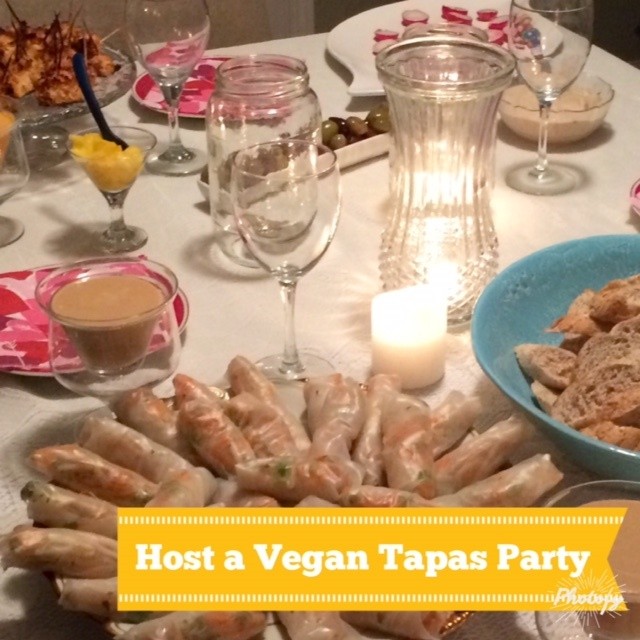 Host a Vegan Tapas Dinner
A Party Planning Guide
Having a vegan tapas party can be tasty, healthy, and even fun and exciting, even for your non-vegan friends.
It's fun to try new things at a dinner party, and making it a tapas party will mean lots of fun little bites of vegan delights to try, it's a great way to try many types of different vegan flavours at once!
All my recipes are at the bottom of this post. I'd love to hear about your experience if you give this dinner party a try!
Setting the Scene
Tapas-style means sharing many small dishes, perfect for a dinner party because it encourages lots of sharing and interaction.
To set the table for this style of eating, put down side plates instead of full dinner plates at each place setting. You will need the extra room at the table for many platters!
Because you will want to bring many different dishes to the table at once, use the largest table you have, and keep the decorations simple - I used candles in jars and a tablecloth.
The Menu
Easy Sangria
Salted radishes, mixed olive platters
Rosemary and white bean dip with fresh bread
Cucumber hummus cups topped with olive tapenade
Rice paper wraps with dipping sauce
Polenta bruschetta bites
Mint chocolate "nice cream"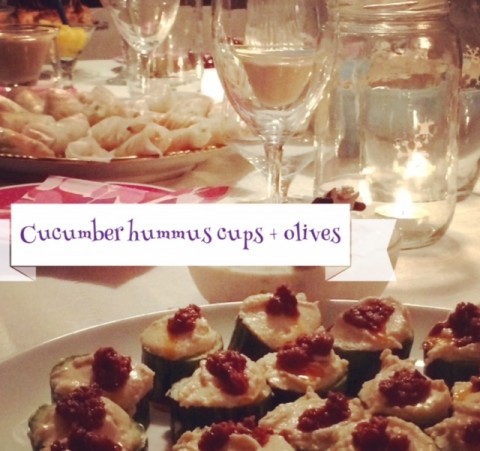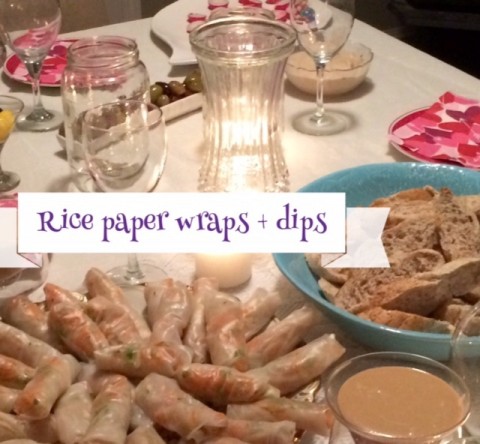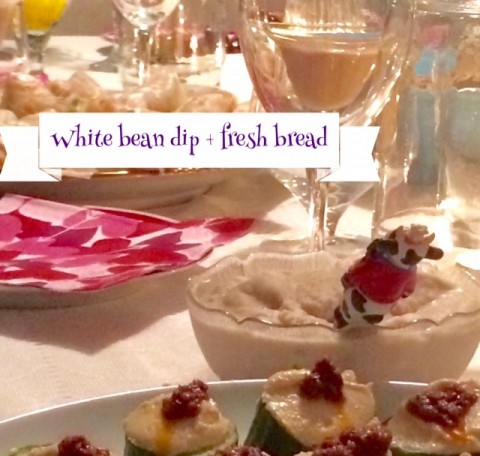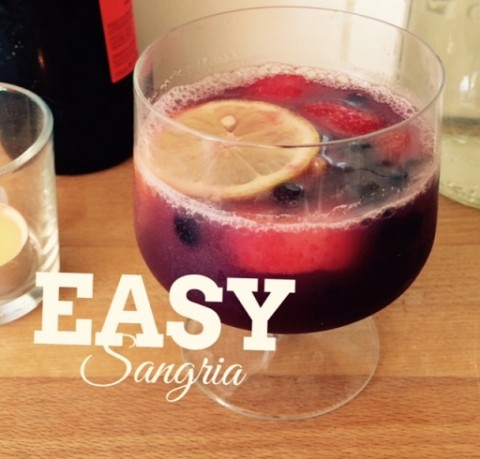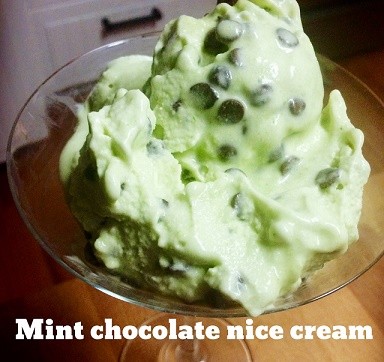 The Recipes
Easy Sangria
2 bottles vegan red wine + 2 Litres Ginger Ale + mixed frozen fruit + sliced lemon/limes
Mix early in the day to allow the flavours to develop - and so a drink is ready as soon as your guests walk in the door!
Salted radishes, mixed olive platters
Coconut-crusted tofu bites + Mango Dipping Sauce
Drain 2 packages of firm tofu, press onto paper towels to release extra moisture. Cut into medium-large cubes.
Set up 3 bowls:
Bowl 1: 1/4 cup flour + 1 tsp each salt, garlic powder
Bowl 2: 1/2 cup almond milk + 1 tbsp flour
Bowl 3: 1 cup shredded coconut
Heat coconut oil in a medium/high frying pan. Dip each tofu cube in bowl 1, then bowl 2, then bowl 3, then put in heated oil on frying pan. Pat extra coconut flakes if needed. Pan fry on all sides until golden. Work in batches.
Remove from frying pan and let cool on paper towel to soak extra oil.
Mango dipping Sauce: In food processor/blender combine: 2 cups peeled cubed mango (cheat: use frozen!) + 2 tbsp agave syrup + 1 tsp lime juice + 2 tbsp coconut milk + 1/2 tsp salt + 1/4 tsp crushed red pepper flakes.
Rosemary and white bean dip with fresh bread
1 - 14 oz can white beans + 1 clove of garlic or 1 tsp garlic powder + 1.5 tablespoons olive oil + fresh ground salt and pepper + squeeze of lemon juice
Blend all ingredients in a food processor. Make this one the day before if you want! Serve with fresh bread, or whatever form of carbs you prefer.
Cucumber hummus cups topped with olive tapenade
To Make the hummus: Mix 1 - 14 oz can chickpeas (organic is best!) + 1 tbsp lemon juice + salt + pepper + 1 tbsp tahini paste + 3 garlic cloves (or less, or more, depending how much you like garlic). Blend it all together in a food processor. The hummus can be made the day before the party.
To assemble the hummus cups: Slice cucumbers into 1-2 inch rounds. Scoop out a bowl into the top of each round. Fill with hummus. Top with olive tapenade. (Olive tapenade = Get from the deli to save time!)
Rice paper wraps with dipping sauce
To make the rice wraps: Chop up any combination of veggies you'd like into thin strips. Fresh herbs are great too. Chop first then line them up for easy assembly. Some suggested fillings: bean sprouts, alfalfa sprouts, thin strips of carrots, strips of fresh basil or cilantro, thin strips of bell peppers, lettuce. Anything really!
The rice wraps (which you bought at the store), will have directions on them - follow those! Then fill and wrap them.
To make the dipping sauce: Pull out your blender/food processor again! Blend together the following ingredients: 1" piece of fresh ginger, sliced thin + 1 small clove garlic + 1/2 cup creamy peanut butter + 2 tbsp soy sauce + 1 packed tsp brown sugar + pinch crushed red pepper flakes.
Thin it out as much as needed with water to make it blend - adding a little water at a time until you get the right consistency. Another thing you can make the day before! (Put in fridge and bring to room temperature to serve.)
Polenta bruschetta bites
Prepared polenta roll (in the refrigerator section of store) - slice into 12 even rounds, then fry in olive oil til crispy, flipping once or twice.
Arrange on a cookie sheet. Top with diced tomatoes, torn fresh basil, and a drizzle of olive oil and balsamic vinegar.
Bake in 375 oven for about 10 minutes.
Mint chocolate "nice cream"
This recipe is delicious, and it's from a blog called "Natural Noshing," visit this blog here
Ingredients: 1 can full fat coconut milk + 1/2 cup unsweetened vanilla almond milk + 2 tsp vanilla + few drops peppermint extract (about 1/4 tsp) + 3 tbsp agave + small handful of fresh spinach + pinch sea salt + handful vegan mini chocolate chips
Blend everything but the chocolate chips in the blender, then chill in the fridge until the party. When ready to make dessert, churn in the ice cream maker with the chocolate chips. This step takes about 15 - 20 minutes, depending on the ice cream maker.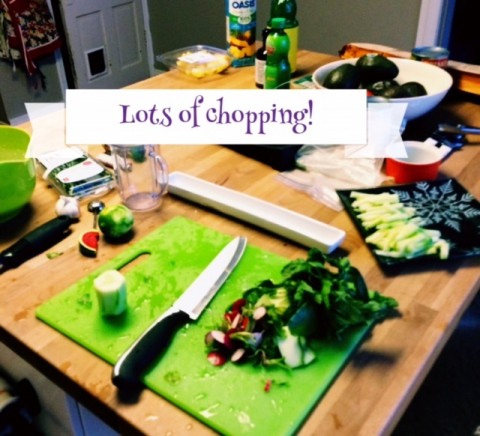 By accepting you will be accessing a service provided by a third-party external to https://www.friendmatch.com/