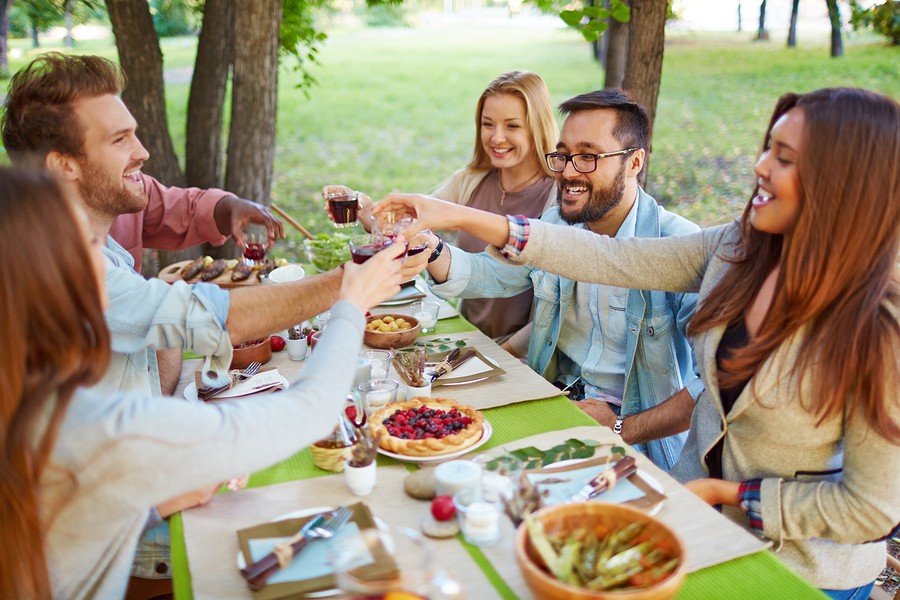 This year for Thanksgiving, why not fit in an extra celebration with friends?
Instead of repeating the traditional feast, (turkey burnout!?) make it a culinary adventure with this exciting and healthy raw plant-based menu. It's high in vitamins and low on calories, so there's more room for extra (organic) wine and pumpkin pie topped with coconut whipped cream!
This is the raw menu from the cookbook, "Living Raw Food," by Chef Sarma Melngailis.
This Thanksgiving menu was also served at Sarma's raw restaurant in New York City for Thanksgiving.
Note that you need a food dehydrator to make the recipes.
The Menu
Serves 10 - 12 guests
Marinated mushrooms (can use dark and light for two-toned "meat")
Mashed root vegetables
Stuffing
Cranberry sauce
Brussels sprouts
Organic red and white wine
Vegan pumpkin pie with raw vegan whipped cream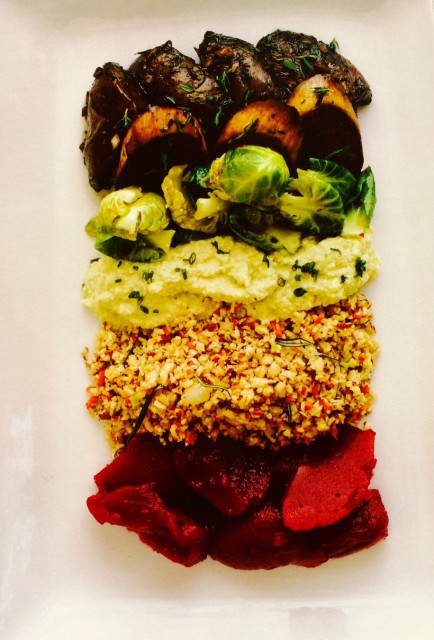 The Scene
Think natural as a decor theme. Set your table with seasonal produce and simple candles in mismatched-sized jars. Decorate your house with a generous number of wildflower bouquets, and be sure to mix grasses, cat tails, and berry branches into the bouquets if you can. With all the time saved on cooking this meal, you will extra time to go for a nature walk and gather these supplies! (Or your nearest farmer's market.)
The Recipes
From the cookbook, "Living Raw Food."
You can make all of these recipes one day ahead, and just warm everything up in your dehyrdrator 30-40 minutes before serving!
Marinated Mushrooms
1 medium onion, diced
2 cups olive oil
1/4 cup balsamic vinegar
2 tablespoons minced rosemary
3 tablespoons each, minced sage and thyme
1 tablespoon sea salt
1/2 teaspoon freshly ground black pepper
10-12 large portobello mushroom caps, cleaned and sliced thick on the diagonal
4-5 large king oyster mushroom stems, sliced thick on the diagonal (use extra portobellos if unavailable)
Combine all ingredients except mushrooms in a large bowl, whisk til well mixed.
Add mushrooms to the marinade and coat well. Set aside to marinate for 10-15 minutes.
Place mushrooms on a teflex-lined sheet in your dehyrdator and allow to dehyrdate until the mushrooms become tender and look roasted, 1-2 hours.
Mashed Root Vegetables
4 cups pine nuts, soaked 1 hour or more
2 cups water
4 cups celeriac, peeled and chopped
5 cups jicama, peeled and chopped
1.5 cups parsnips, peeled and chopped
2 cups olive oil
4 tablespoons nutritional yeast
2 tablespoons lemon juice
2 tablespoons truffle oil
1 cup scallions, white and pale green parts, chopped
20 turns fresh ground pepper
2 teaspoons sea salt
In a blender, puree the pine nuts and water until smooth and creamy.
Place the puree in a large bowl, add all the remaining ingredients, mix well.
Pour 1 cup pine nut cream and 3-4 cups of the vegetable mixture into a food processor and process until smooth. Set aside in a large bowl and continue with the remaining pine nut cream and vegetable mixture.
Stir the mixture well and let sit for at least 2 hours to allow any liquid that forms to pool on top.
Pour off the liquid. If it's still a bit runny, place the mixture on a clean kitchen towel and gently squeeze out any excess liquid. Transfer to a bowl and season with additional sea salt to taste.
Brussels Sprouts
1/4 cup pistachio oil
1/2 cup olive oil
1/2 cup maple syrup
1 teaspoon sea salt
1 teaspoon fresh ground pink pepper
5 cups Brussels sprouts
In a large bowl, whisk together the oils, maple syrup, salt and pepper.
Remove discolored outer leaves from the Brussels sprouts, and cut off the hard stems.
Some leaves will separate from the core. Continue cutting away the hard interior until the sprout is entirely separated into individual leaves, placing the leaves into the oil mixture as you separate them. Repeat with the remaining Brussels sprouts
Toss the sprouts mixture and marinate for at least 30 minutes. Alternatively, for more tender Brussels sprouts, place them on a Teflex-lined tray in the dehyrdator for up to 45 minutes. You can also do this just before serving so that they will be warm.
Stuffing
4 cups chopped cauliflower florets
2 tablespoons olive oil
sea salt
8 cups ground pecans, ground to a crumbly texture in the food processor
2 cups carrots, peeled and diced small
2 cups celery, diced small
2 cup onion, peeled, diced small
1 teaspoon truffle oil
2 tablespoons rosemary, minced
3 tablespoons thyme, minced
freshly ground black pepper
Place cauliflower in food processor and process until it has a texture similar to sesame seeds, with no large pieces.
Add the olive oil and a pinch of sea salt and process just until mixed.
Spread the mixture on a Teflex sheet and dehyrdate for 1 hour.
Meanwhile, mix the other ingredients in a large bowl.
Remove the cauliflower from the dehydrator, mix with the remaining ingredients, and season to taste with salt and pepper.
Cranberry Sauce
8 ounces fresh cranberries
1/2 cup filtered water
1/4 agave nectar
2 strips orange zest
1 tablespoon lemon juice
1/4 teaspoon sea salt
about 2 cups Irish Moss, soaked in hot water for 10 minutes or more, drained
In a high-speed blender, puree all the ingredients except for the Irish moss until very smooth.
Add the Irish moss to the blender and mix at high speed until the mixture heats up to about 115 degrees Farenheit.
Pour the mixture into a bowl or shallow pan and refrigerate at least 2 hours.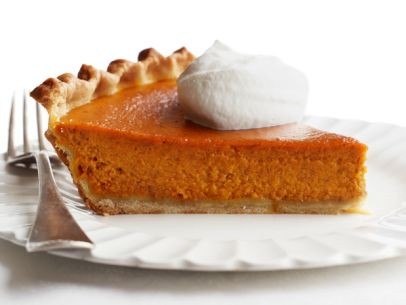 Dessert:
Top it with raw whipping cream:
Refrigerate full-fat coconut milk until chilled, then whip until fluffy! Add a bit of your favourite sweetner and vanilla if you'd like.
Mmmm!