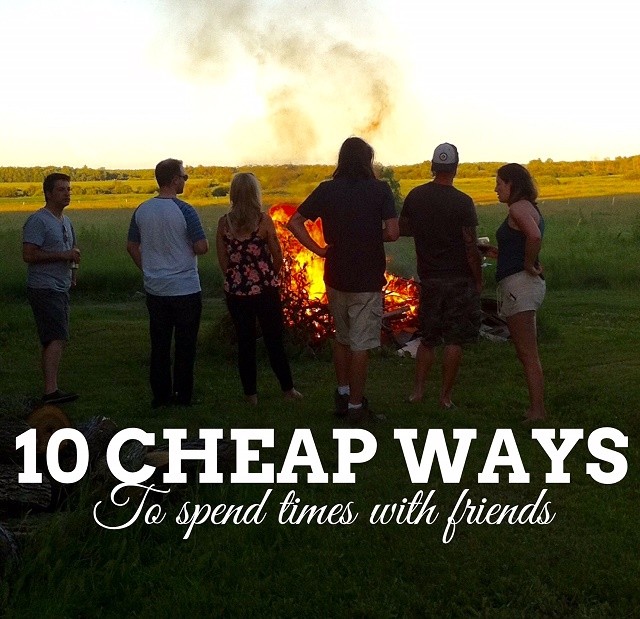 Go For a Walk
It doesn't cost anything, it's good for your health and the changing environment and cardio activity will help your conversation flow. You can walk around in your neighborhood, a different neighborhood, a park, just about anywhere! A bike ride is also beneficial and fun!
Work Out
Kind of similar to the above. If you're going to work out or go to the gym anyway, you might as well do it with a friend! The time will fly by, and as a bonus, having someone else working out might help inspire you to complete your full workout. After all, it's harder to slack off if you think someone else will notice!
Hit up a Coffee Shop
Frothy cappuccinos, seasonally spiced lattés, couches, music- forget the new Starbucks drive-thru, coffee shops were made for hanging out! A good dimly lit coffee shop and good tunes is the perfect mix of relaxation and stimulation for chilling with friends! Take two hours to sip espresso and foamed milk and cinnamon while catching up with a friend, or a group of friends.
Cook
This is a fun activity to do with friends! Save on the pricey restaurant bill and hit up the nearest market for some fresh foods to cook at home. You can share a favorite recipe with your friends, or tackle a bigger, more complicated recipe together! With everyone assigned to chopping or mixing, or pouring of wine, you will develop a real sense of camaraderie and teamwork together- and in the end you can all sit down to a great home cooked meal! No tipping required.
Go for Dessert
So you've had your dinner already with your spouse or partner, and now are settling into routine. That leaves room for dessert! Head to the trendiest place in town, even a pricey dessert will only be a fraction of the cost of a meal out. Order the yummiest thing on the menu plus some coffee or herbal tea, and revel in the fact that if you share, you're sharing the calories too. Scrumptious.
Help Each Other
Go to your friend's house and help him paint his fence. Next weekend, he's coming to your place to stain your deck. For the price of beers you have extra labour and the encouragement to get lots more done. You're both happy because you get to cross things off your list, and chores never seem so hard when you're hanging out with friends. Everybody wins!
Game Night!
Gather a couple of friends, or a couple of couples, and invest in a board game. There are so many out there now. Some classics are charades, Taboo, Scattegories. There are great newer games out there too, like Cranium, and several hilarious "Battle of the Sexes" games. Or go all out and get a Murder Mystery game, costumes and all. Snacks can be as casual as a couple bowls of chips and some pop to as elaborate as an appetizer potluck.
Do Your Grocery Shopping Together
This is better with just one friend otherwise it could get a little chaotic. Ever feel like you're always coming home with the same things? So what if you have your grocery shopping down to a lean routine? Getting the task done with your friend can introduce you to new foods, and maybe even some tips and tricks. It's also a neat chance to learn more about your friend. What kinds of meals does your friend plan? What great deals can you learn about? You might pick up ingredients for your classic steak marinade, and your friend might try it too. Maybe he has a favorite brand of yogurt you didn't know about it. Maybe she has a healthy go-to snack you could try. At the very least it could offer some new insights on your own shopping habits. And isn't self-discovery fun too?
Have a Spa Day
OK, admittedly, this one is probably more appealing to the ladies. Gather around at a friend's. Bring your bathrobes and slippers and concoct your own beauty treatments- there are tons of home-made face masks, scrubs, and creams on the Internet, like these. Munch on healthy spa food an apple ginger cooler or grilled veggie wrap found here. Don't forget the cucumber slices for the eyes!
Bowling
Why? Because almost anyone of any age can do it, the food is cheap and so are the drinks, and it's fun! So there you have it, some ideas to get you started. More activity ideas
Have a Bonfire
I'm pretty sure this simple pleasure has been enjoyable for thousands of years by us humans! It's a great way to connect, and easy to do! Pass the marshmallows!
Go to the Beach
Guaranteed fun! Who doesn't love the beach? Fill a beach bag with sunscreen, waters, snacks, and a frisbee, a soccer ball, or a bocce ball set and you'll be entertained for hours!